Beesy Testimonials – Best note taking app

Learn how teams get things done
Give you the opportunity to become efficient in less than a meeting.
"The best project management tool. Period. I have tried lots of ToDo and Project Management Apps in the past but Beesy tops them all. Once you get used to the interface, there is nothing that can't be tracked. I have introduced it to several coworkers and they have all dropped their current Project Management / ToDo apps and moved over to Beesy. Well worth the money !"
"Best app for managing projects and meetings! If you have to run a project and host meetings to get things done, this is the best app I have ever used. As a manager, it is a must have. It produces beautiful meeting minutes and project reports and makes it a breeze to track and assign actions to people."
"Beesy is by far the best app I have on my iPad. I thought I was organized prior to finding this app. I was using a paper planner and thought there could be no way I would ever change. The task organizer and meeting notes are life changing! I know – dramatic. Just try it, you'll see"
"Beesy was recommended to me by a colleague and in the short time I have been using it, I have found it easy to use and allows for easy tracking of meetings and tasks. Updates to allow for items to carry over to repeat meetings will meet all my needs for running multiple staff groups and projects. I would recommend this to anyone who is looking for a simple way to manage action oriented minutes across multiple projects.…"
"I have tried many of the meeting and note taking apps offered for the ipad. I must admit Beesy is one of the best. The one thing I feel will be a big added plus is adding a way to make templates for repeated meetings so you don't have to keep re-typing your main topics or subjects. This would be great for weekly meetings. Please add this if possible, keep up the good work thanks!…"
"This is by far the best iPad App I have used to date. I went from typing very crude meeting minutes via e-mail, to sending professional meeting minutes using Beesy. I have only been using them for a short time but am blown away at the functionality. I can't wait to continue to discover new and useful features…"
Access from anywhere
Available on iPhone, iPad, iWatch and Web, Beesy works seamlessly across all major devices to keep your actions in sync.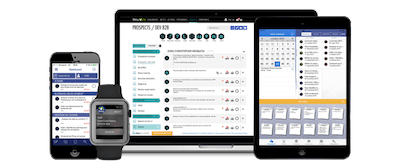 "This is great once you figure out how it works. For the price the developer could throw down and get someone with basic grammar skills to proof read the instructions which are poorly written and confusing. Very visual and works the way you think, definitely worthwhile.…"
"I have tried many of the meeting and note taking apps offered for the ipad. I must admit Beesy is one of the best. The one thing I feel will be a big added plus is adding a way to make templates for repeated meetings so you don't have to keep re-typing your main topics or subjects. This would be great for weekly meetings. Please add this if possible, keep up the good work thanks!…"
"I use this app for some time now and like it a lot. The integration of the iPad calendar and the possibility to download minutes into evernote including the open tasks is just great. It allows me to take fast notes during meetings and to keep track of the open tasks. My own tasks and the tasks of my team. As a project manager this is essential and the first app to do a great job in this regard. Keep up the good work!…"
"If like me you are always in meetings and calls where no one takes or tracks actions other than you, then this is the best way of gaining time and control, as well as allowing you to throw away your pen and paper and all the other 'To-Do' apps. If you spend a day working out the way this works and pre-populating the Goals, Projects (these can be anything that you want to track actions against, from a one-off event to a strategic programme) and People (with those you deal with on a regular basis – you can add others whenever you need to), then you can create minutes and dynamic action logs which are automatically aligned to Calendar entries and other activities. There's the occasional crash and oddity that you can only work out once you start to use it, but assuming it continues to be developed this is a seriously productive 'Productivity' app.…"
"Beesy is an easy to use app allowing you to rapidly make notes and record actions immediately, saving time by producing the output straight away. Providing CSV export puts many other vendors to shame who just won't let you out of their eco-system. With Beesy you can utilise flexible filters to see to do's, projects, notes etc how you need. The developers are very responsive and engaging on future development/updates via their forum. At the moment, I'm hoping for sync or backup to cloud, access via web. If this app can span task, meeting and project management and maintain the flexibility, it will rise rapidly up the apps store charts and be a leading productivity tool. I expect to return to this review for the fifth star at some point.…"
"I am working as a Project Manager managing several projects with many teams. I am constantly in meeting and I wanted something better than Evernote. I have tried several solutions on the Appstore but found Beesy to be the best. There is a small learning curve but once you understand the logic it is a great tool. I now work completely paperless. Beesy knows when I have a meeting as it integrates with my ipad calendar and also adds my participants automatically. I had a few question to their support and the help was very fast and professional. I also received a preview of the future features and it is going to be even better. I recommend it to everyone who needs a fast note taking app with great to do follow-up and Evernote integration.…"
"I am a busy project manager who works across multiple clients, multiple projects, and multiple resources. Before this app, I used to take notes in a notebook. I always felt it was unproductive, because I had to come back to the office after a meeting, transfer and write up my notes, and store actions in a place that I would refer back to later for follow up. When you're really busy it's easy to not have time/forget/miss actions that are important and have deadlines. I always felt there was a gap in the market for an app that would help make me more efficient, and my job less stressful.…"
"Finally, something that allows me to quickly create minutes as well as follow up actions. I love the way it integrates with my work calendar on my iPad and also how it allows me to allocate actions to other people and then easily track completion. They have also done a good job allowing you to send anything (I.e. any view in the app) via an email, so you can easily send minutes or a list of tasks for a given resource. The other bonus is that it lets you prepare for a meeting in advance, so you can create a structured agenda and send it from the app or keep track of the work that you need to do before the meeting. Great app!…"
"This app has been very helpful in streamlining my workflow. The syncing with iCal has been very helpful, and the ease at which one can organize a meeting, take notes, and send out minutes with tasks arranged by who's responsible is fantastic! And organizing tasks into the urgency/priority matrix that I've used for years is an awesome help. There is a bit of a learning curve and a few features still needed (e.g. A no date or "someday" date option), but this is by far the best productivity app I've tried–and I've tried many. Way to go!…"
"The 1.47 release makes Beesy just about perfect. The new option to view all notes in Project view (whether or not they are tasks) is exactly what I needed. I also like the new notifications. It's an elegant and innovative way to communicate with the user base. The latest update makes an excellent productivity tool even more useful. I used the audio note feature the other day for the first time. Very handy! I've been using Beesy for a little less than three weeks, and while I haven't yet mastered all its features, it's become my go-to project management tool by a wide margin. Notice that I said "project management", not "project planning." It's a different approach to managing tasks, and takes a little bit of time to get the feel for how it works — reading the inline help notes is well worth the effort — but the difference is exactly what makes it valuable. It bridges the gap between formal MS Project-like apps, which are too rigid and complex for my needs, and to-do list apps, which aren't very good for sharing among teams or documenting notes. My favorite features: Dashboard – great integration with calendar. Meeting features – holy cow, does this save time – grab a meeting from your calendar in the dashboard, assign it to a project, set an agenda, add participants, take notes in the app, and when you're done, tap "Meeting Minutes" and email the whole thing to all the participants. Team task lists – easiest and best I've ever used. Goes in email as ordinary editable text, no stupid formatting or need for file conversions, no being out of luck if someone on the team doesn't have the app. Open a URL from within the app – such a simple thing, but a timesaver during a meeting. Documentation – at the end of a project, I can email all the notes to myself and archive them with the project file. Great when I need some info later or to document activities for billing.…"
"I've been using Beesy for a little less than three weeks, and while I haven't yet mastered all its features, it's become my go-to project management tool by a wide margin. Notice that I said "project management", not "project planning." It's a different approach to managing tasks, and takes a little bit of time to get the feel for how it works — reading the inline help notes is well worth the effort — but the difference is exactly what makes it valuable. It bridges the gap between formal MS Project-like apps, which are too rigid and complex for my needs, and to-do list apps, which aren't very good for sharing among teams or documenting notes. My favorite features: Dashboard – great integration with calendar. Meeting features – holy cow, does this save time – grab a meeting from your calendar in the dashboard, assign it to a project, set an agenda, add participants, take notes in the app, and when you're done, tap "Meeting Minutes" and email the whole thing to all the participants. Team task lists – easiest and best I've ever used. Goes in email as ordinary editable text, no stupid formatting or need for file conversions, no being out of luck if someone on the team doesn't have the app. Open a URL from within the app – such a simple thing, but a timesaver during a meeting. Documentation – at the end of a project, I can email all the notes to myself and archive them with the project file. Great when I need some info later or to document activities for billing.…"
"I have tried several note taking apps for meetings. This is the one I use now. True that the interface can be a bit daunting at first, but once you begin using it, you realise the extent of the power of the shortcuts. Allocating actions with dates and owners is actually a piece of cake. The main drawback of other apps is their inability to show clearly the list of tasks. Beesy offers a todo list which is user friendly, easy to update, and provides a good basis for picking up matters arising. The new version with audio and pictures should be a nice addition. I am still waiting for the interface with the iPad todo list, and this would really be the bees knees… On top of it, the development team is very reactive and got me out of trouble with a fix on the previous version. Keep going!…"
Discover all the usecases
No matter your issue we have answers