Improve the use of Microsoft Office 365 tools with Beesy
A smart assistant 100% integrated to Teams
Consolidation of all information from the different tools and management of all activities and co-workers, without changing the environment MICROSOFT OFFICE 365
Beesy a MICROSOFT certified solution

Beesy is integrated with Microsoft to enhance the Office 365 experience, without changing users' daily environment and habits.
We are Microsoft for startup partners and Co-sell Ready Microsoft to guarantee :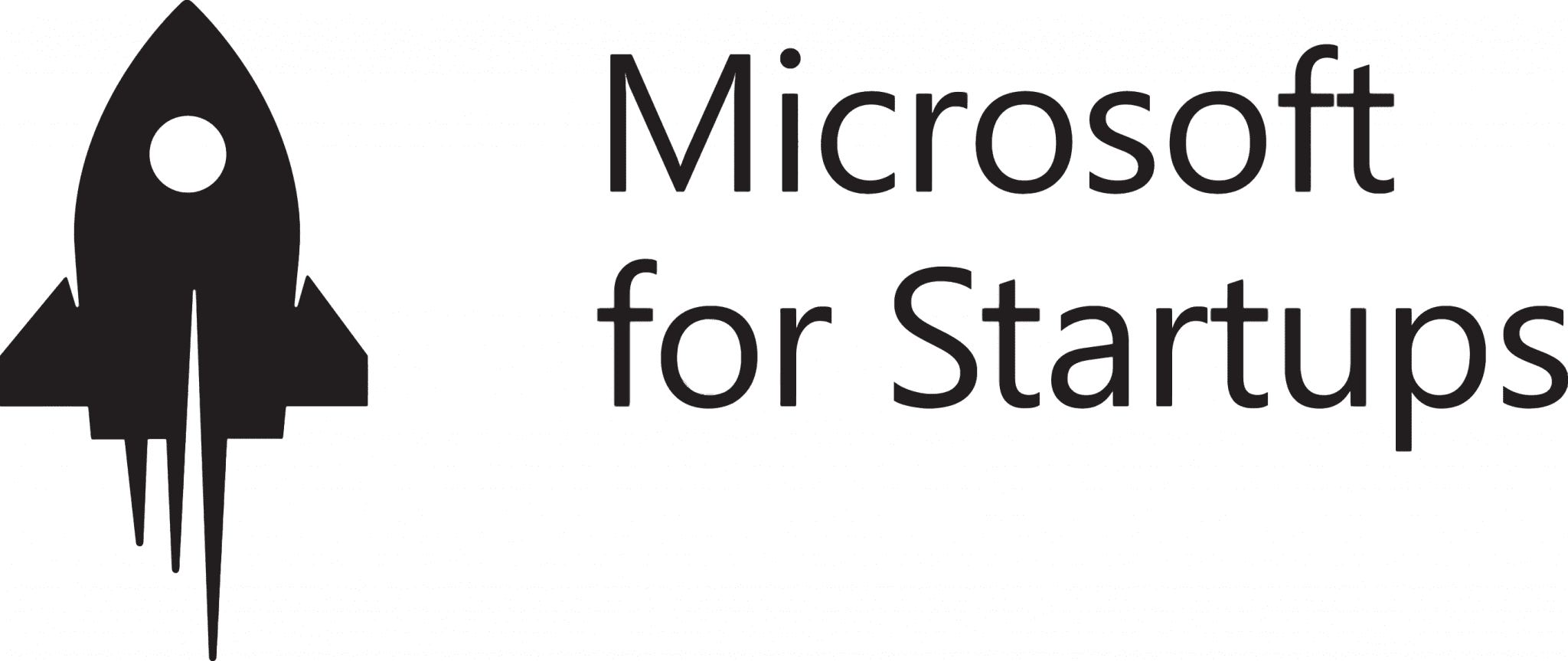 Quality (Microsoft Validation Procedure)
Security (authentification Azure AD)
Integration (available in the App source)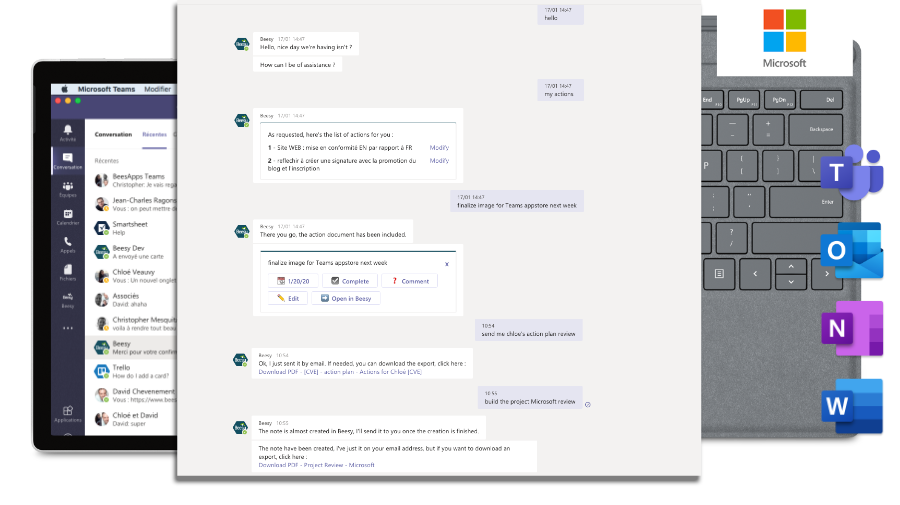 A solution 100% Integrated into the Microsoft environment
Beesy includes a chatbot with artificial intelligence.
You can mention it in Microsoft Teams, communicate with it in Outlook, send it your Onenote notes by addressing it in natural language.
It will then analyze the content of your exchanges to automatically create the action you ask for.
Collects on demand all the important information for the business in a single place without changing its daily environment MICROSOFT OFFICE 365
100% efficient meetings
Follow up on the action plans defined during the meetings.
Send OneNote meeting notes to Beesy (by email or automatically with Power automate). Beesy's artificial intelligence transforms the note-taking into a structured report with an associated action plan. All the actions to be carried out, decisions or information will then be easily accessible by a simple request to your Beesy chatbot or directly in a Microsoft Teams tab.
For meeting management, Beesy also offers a multitude of solutions: Intelligent note-taking with meeting templates, 1-click automation of the preparation of periodic meetings, project committees, one-to-one…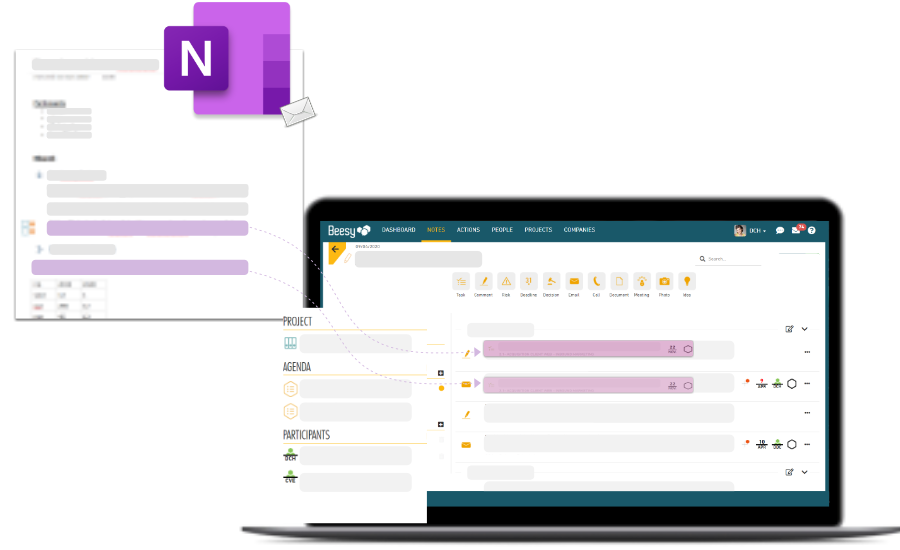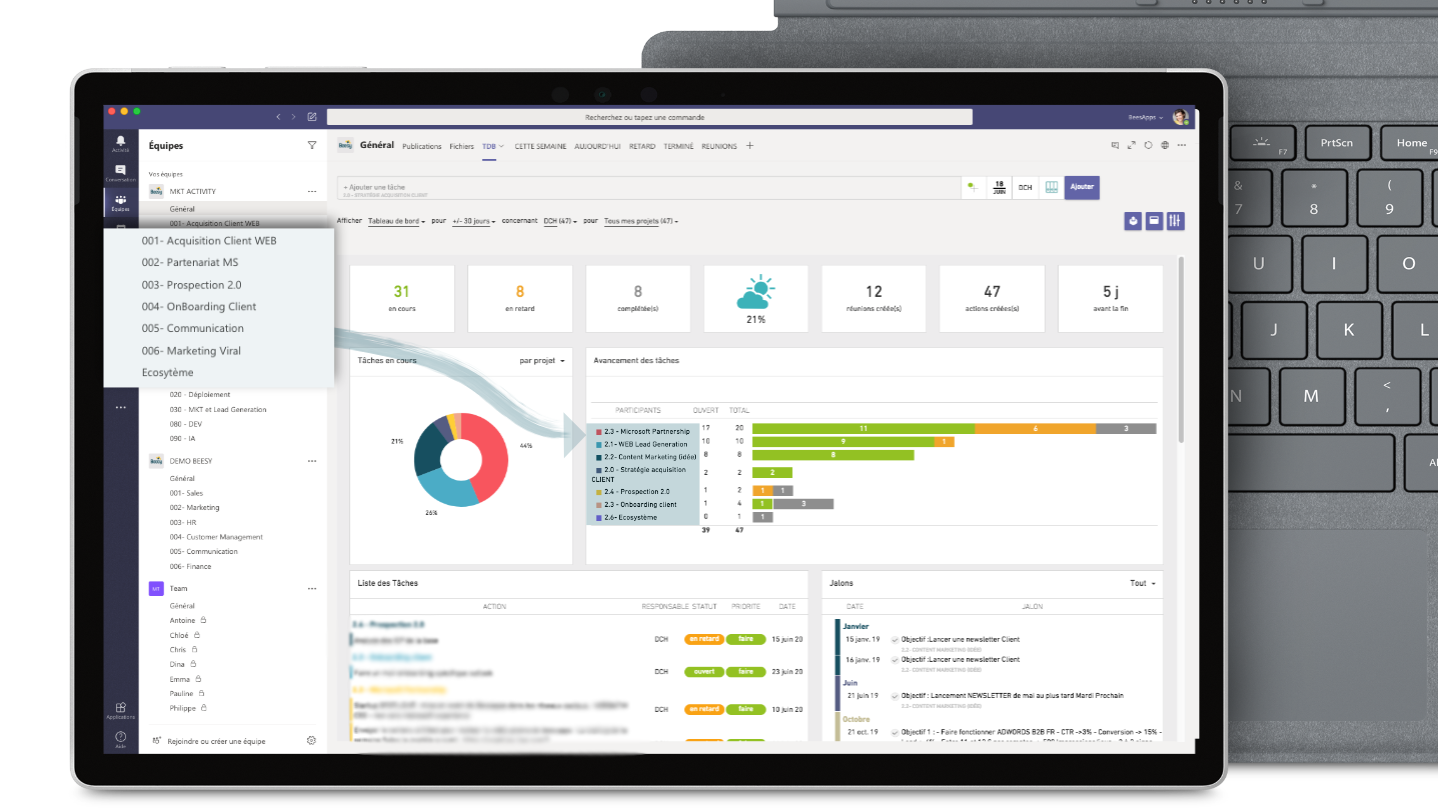 Simplify the management of action plans with consolidated views of all your discussion channels
Whether you're emailing with Outlook, using Teams or in OneNote meetings, Beesy collects all business information and transforms it into intelligent data that you can use in your MICROSOFT OFFICE 365 tools.
In Microsoft Teams, you will find all the aggregated data for a co-worker, a team or an activity.
Asking the Chatbot Beesy, "Give me all the Peter's actions of the week", "What are the current actions for the Beesy Integration Project?". Beesy lists all the actions whether they come from an Outlook email, a Teams conversation or a OneNote.
In a structured way, with Beesy tabs, fully customizable for the daily management of your activity
In the Outlook calendar, you can also synchronize all the due dates of the tasks collected by Beesy
Beesy is an intelligent aggregator of data to make it usable in MICROSOFT OFFICE 365 tools.
Personalization of the management tools according to the needs of each Business Line
Beesy allows you to create tabs in Microsoft Teams, to obtain in a single tool complete and aggregated views of all the relevant information to manage daily and real-time priority topics.
With Beesy integrated with Microsoft Teams, business units will be able to customize tabs to manage their activity, determine the progress of topics and quickly identify decisions and risks by channel or cross-channel.
For example, tabs to manage :
Project action plans within +/- 30 days
Outdated actions
History of the steering committees
The "Weather" of a Project
The actions closed this week…
The flexibility of Beesy's reporting makes it possible to customize the dashboards to manage the entire activity, by channel or all channels combined.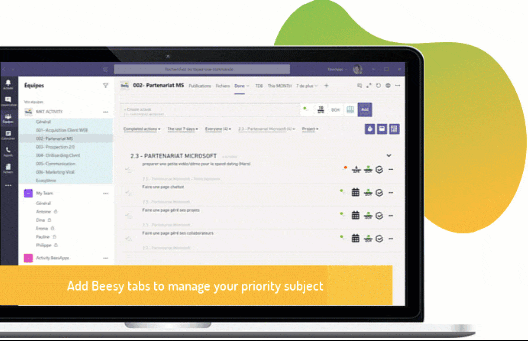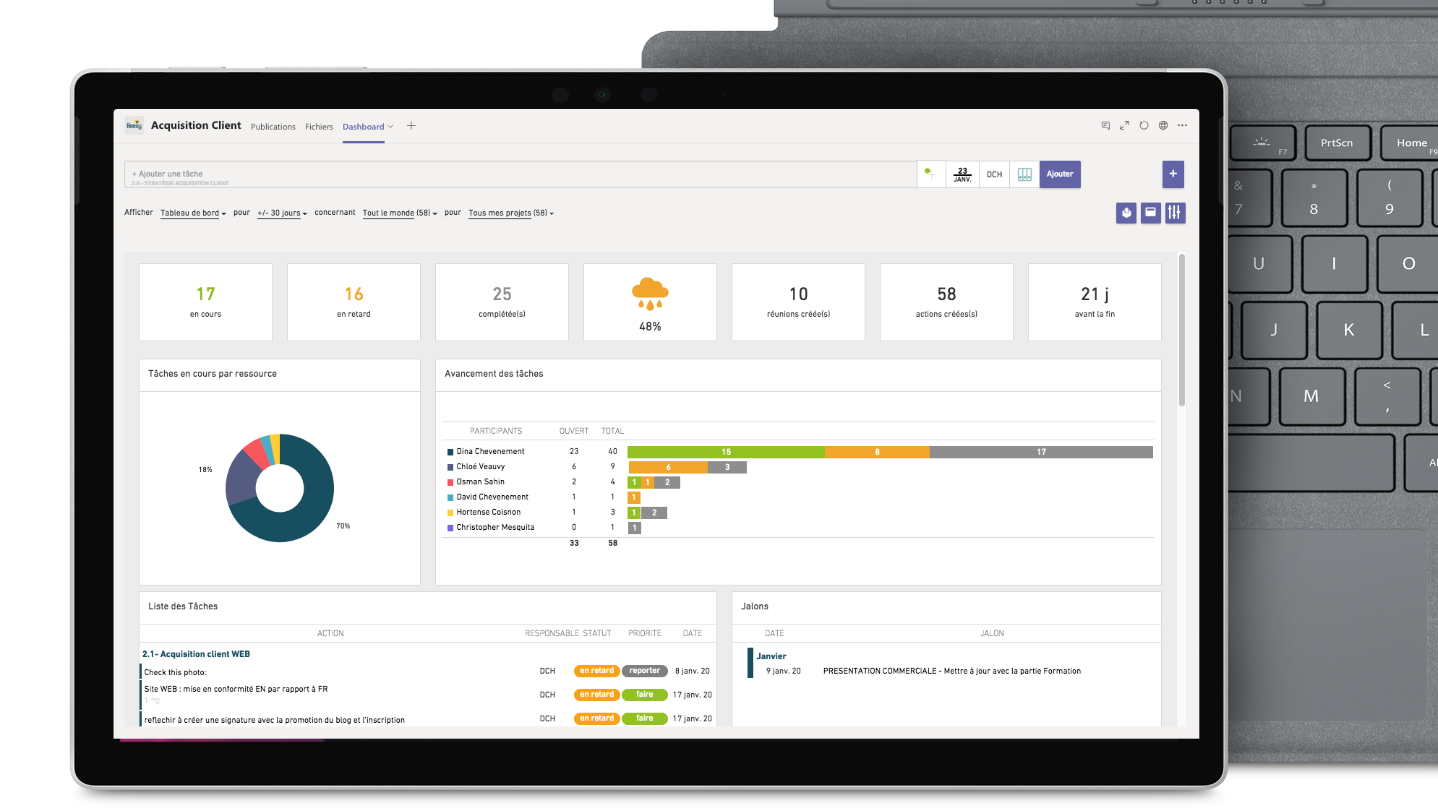 Promote collaborative work
Beesy allows you to create shared spaces in Microsoft Teams with customized reporting to drive team goals.
Teams will be able to create agile and circular reporting for teams, integrating visual progress Project Report for each channel and simplifying activity management with cross-channel visions.
Everyone can see who is doing what, and the overall progress of the project and the team. Teams will be able to consult in real time the Project Report adapted to their needs.
The customization and sharing of the Project Report allows you to set up a visual management system to steer the entire activity as a team, by channel or all channels combined.
Your managers will be able to pilot their co-workers more easily
Your managers will no longer have to deal with scattered information and synchronization meetings. Beesy can consolidate all the dispersed information and create Teams tabs with a global view of all the collaborator's activity.
Beesy consolidates all of a contact's actions from emails, meeting notes or conversations from all of the teams to which they belong. Managers can then create customizable tabs in Microsoft Teams to manage their co-workers:
his actions of the week
his overdue actions
the review of his objectives
…
They will have a global and complete vision of their activity in Microsoft Teams cross channel, to easily and in real time pilot priority topics, identify the load and make decisions.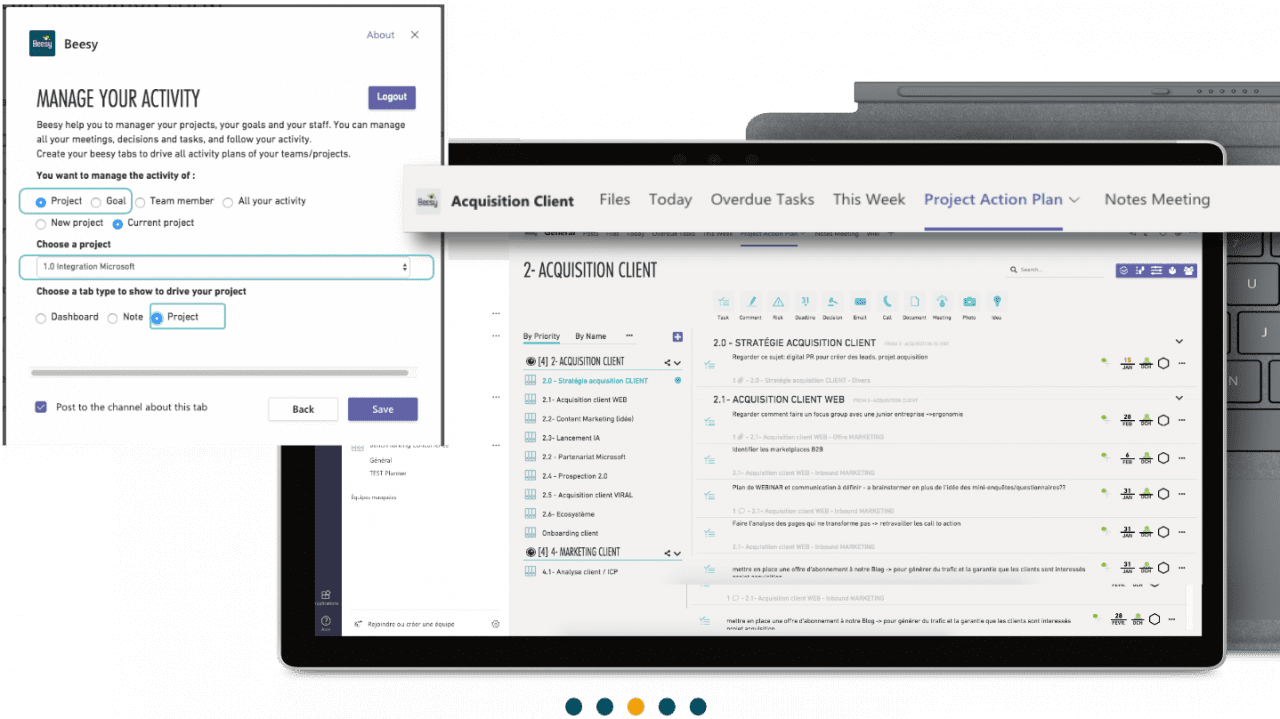 You want to know more about Microsoft Office 365 and Beesy.
We offer a 30-minute demonstration to show you how Beesy is integrated with MICROSOFT OFFICE 365 solutions.