Sales efficiency managed and optimized with Beesy
Manage your sales processes, manage your customers and track your bookings.
Discover Beesy to simplify your daily life and that of your sales representatives
Dashboard
Track the progress of your customer projects, team action plans and commercial operations
Access to your information even on the move
Access information about your team or customers even on the move, even without an Internet connection
A complete and structured vision of your sales representatives' activities
Structure your one-to-one meetings with your sales representatives with a complete vision of the actions to be carried out per client and per project. To do this, use Beesy's Artificial Intelligence and monitor the progress of action plans in real time to control your sales forecasts. Ask the Beesy Chatbot from your instant messaging tools to send you :
your action plan
individual point follow-up with one of your employees
a summary of the progress of one of your projects…
For example here, when I asked for the follow-up of individual points with my collaborator, I received by email the details of his action plan with the associated projects; and I also find it as a note in Beesy.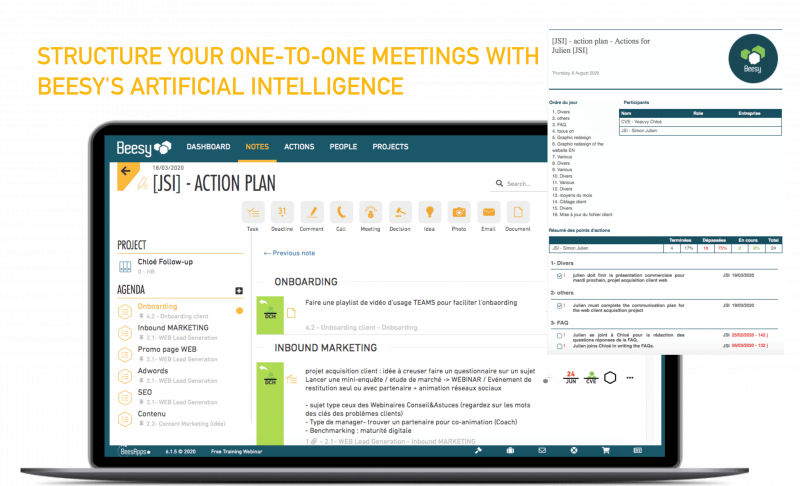 Support the efficiency of your sales representatives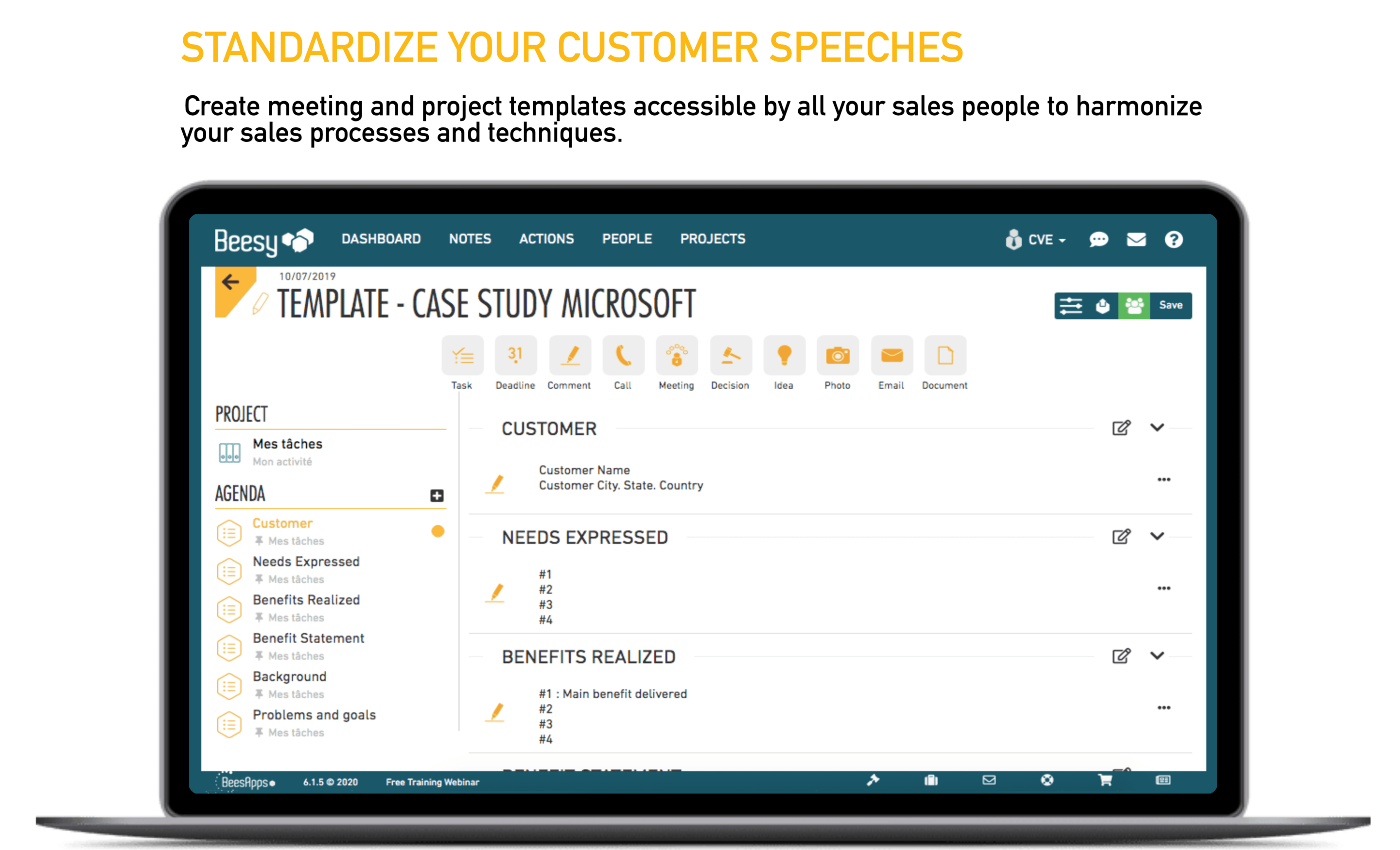 Standardize your customer speeches by creating meetings templates. For example, make sure that during discovery meetings your sales representatives identify all the issues and thus carry out an in-depth qualification of your customers' expectations. To do this, create your meetings templates containing all the elements to be completed ans its standard procedure. 
Optimize and standardize your processes and selling techniques, by creating projects templates by sales stage with your customers :
Discovery – Closing – Customer loyalty
To ensure that your sales representatives always use the latest versions of presentation documents, simply add your documents into your Beesy templates. They will be automatically available to all your sales representatives.
Capitalize on all good practices: update your templates at any time. They will be instantly shared to the teams.
Track your bookings et manage your commercial operations
Identify in 1 click all the actions to be carried out to conclude the sale at your client's premises: actions both in your team or in another entity. Make sure that your employees and their actions are in line with your booking.
Follow the results of your prospecting campaigns and promotions by using the Timeline view to get graphical reports of your activity: number of appointments or calls made, visibility of customer returns…
You can also ask the Chatbot Beesy from your instant messaging (Skype, Slack, Microsoft Teams…) to give you a list of your actions for a particular project or those of your collaborator to be always sure to respect the deliverables.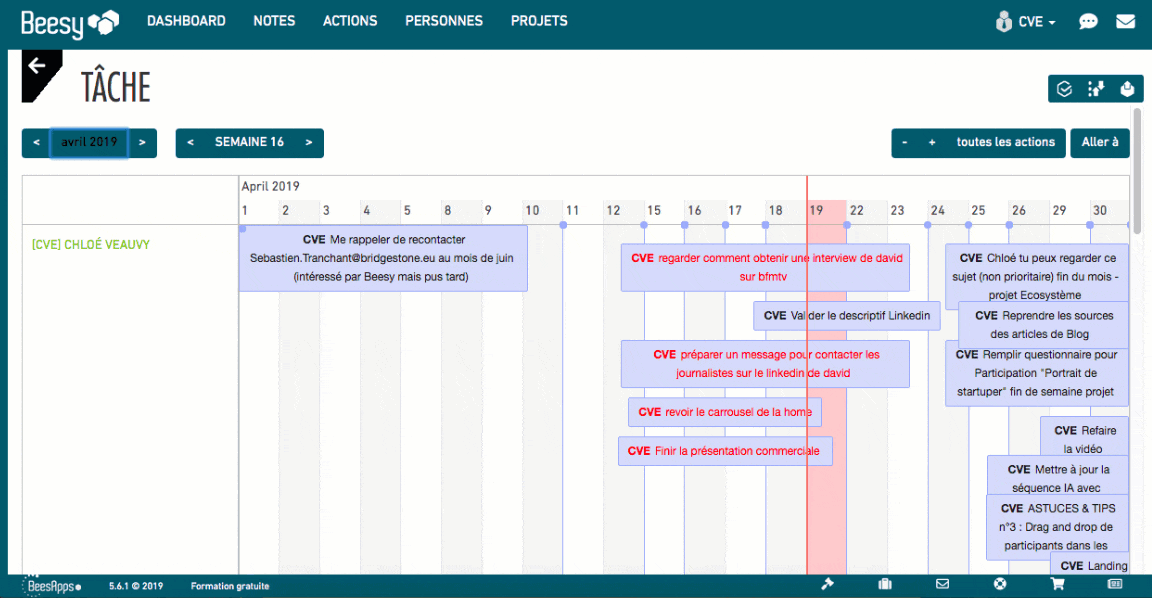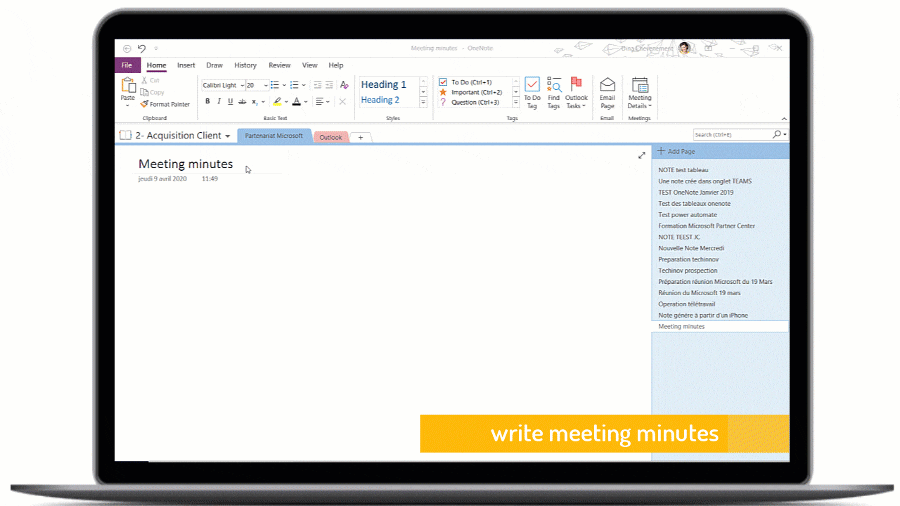 Manage customer communication and increase their satisfaction
Do your salespeople make a habit of taking notes at meetings with Beesy? They can also take them directly from an email and send them to their Beesy AI assistant. By doing so, they will receive a professional automated meeting report by email at the end of the meeting, ready to be sent to a client.
Most importantly, they will have a detailed action plan on expectations, needs and customer planning to steer their project internally.
Result: satisfied customers, thanks to the management of customer expectations with Beesy AI. Nothing is forgotten, everything is managed! You even find all your notes in Microsoft Teams.
Manage your customers with an updated CRM – Customer Relationship Management

Have a complete overview of all the actions in progress with a client.
For each customer, easily find all the context elements of all your meetings in Beesy, but also in your CRM. No need to retype all information in your CRM, Beesy offers you an option to automatically update it from all your sales representatives' customer appointments.
A change in customer allocation: no more information is lost! Less red tape for your sales representatives.
Discover Beesy to simplify your daily life and that of your sales representatives