How to run your recurring meetings
The recurring meeting is a keystone to set up operational monitoring.
 Executive committees – project steering committees – one-on-one meetings – sales follow-up meetings –  field follow-up meetings ….
All these recurring meetings have the same challenges: making decisions, managing any problems encountered, declining a strategy in the field and of course follow-up the action plan achievement between 2 meetings with the team members involved.
Beesy allows you to efficiently and easily manage your recurrent meetings with an automated actions plan  follow-up between 2 meetings, the management of recurring or not subjects, the set-up of a note template to decline a strategy in the field …
Recurring meetings with Beesy to manage your activity
You don't have to go back on the decisions made at the last meetings because you can take back your old meeting note to start over again. You no longer waste time talking about topics that have already been discussed or remembering what was said because everything is in sync with Beesy. The history of your meetings can be consulted at any time: decisions, action plans, important information…
You get like a "digital book" where you can scroll through the pages corresponding to each meeting.
Beesy pre-fill your follow-up note from one meeting to another, resume the subjects and the actions follow-up.
By managing your recurring meetings with Beesy, you know what actions have been completed since the last meeting and you can more easily review projects achievement with your teams.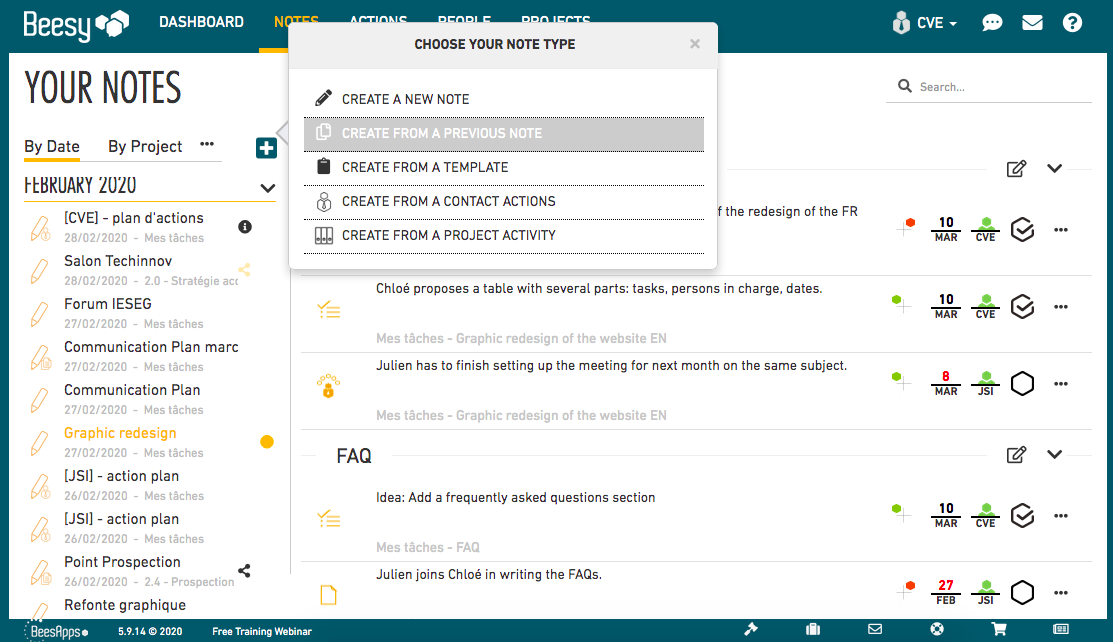 Being able to focus on the essentials saves valuable time for your business.
To create a recurring meeting, just create a note "From a previous note"
Beesy TIPS N°1

Manage your recurring meetings agenda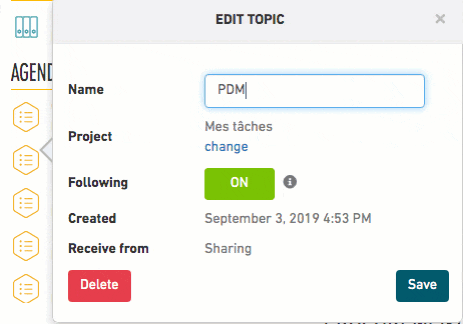 For recurring topics, you will leave the option Recurrence in ON so that they remain visible in the next notes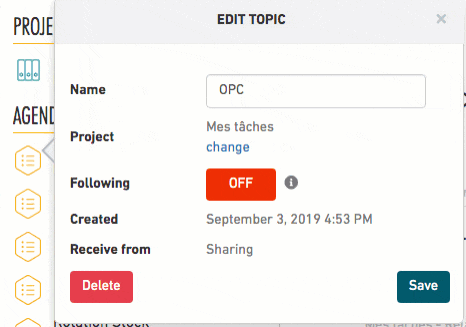 For topics related to a seasonal or one-time effect, you can choose to remove them from the next recurring meeting by setting the Recurrence option to OFF
Identify the recurring topics you want to see at each meeting and the specific topics that will be closed as soon as the action plan is completed.
For example, for specific topics such as a one-time customer event, you only need to set the topic as non-recurring so that it no longer appears in the next recurring note once all its actions have been closed.
By specifying whether or not you want to include specific topics in the next notes, you can avoid having an endless list of topics at the end of the month.
You will have a clear vision on the progress of your objectives, projects and action plans related to recurring strategic topics for your business.
Keep an action visible on all recurring notes
In the same way, you can also choose to keep remarks, decisions … visible on all of your meetings with the "Pin" functionality in the action setting.
Beesy TIPS N°2

Automate the creation of your follow-up meetings
Monitoring is however important to measure the real progress of the project, to make decisions or to reorganize priorities. Do you want to follow the action plans progress for a team member or  project: an exhaustive list of all actions and their progress?
Beesy automates the creation of your follow-up notes for you.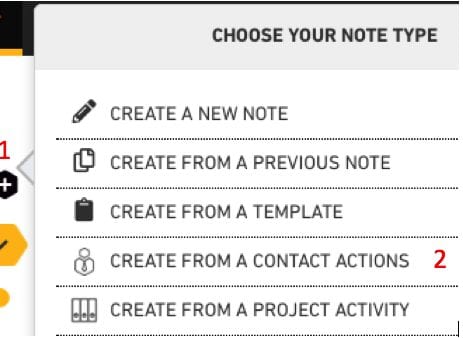 Your individual point follow-up or project meeting has never been so easy! Create a note from the actions of a contact or a project and instantly view all the actions sorted by agenda regardless of where they were captured (an email, a meeting note … ). Create a second minute in the same way, the note will be automatically created in recurring mode to follow the progress between your 2 meetings.
No more time wasted consolidating information to prepare for your follow-up meetings. With this functionality, you will have by subject, all the actions plans for a project or a team member.
You'll have a much better project overview and actions view to lead afterwards. 
Beesy TIPS N°3

Deploy your strategic action plans in your follow-up meetings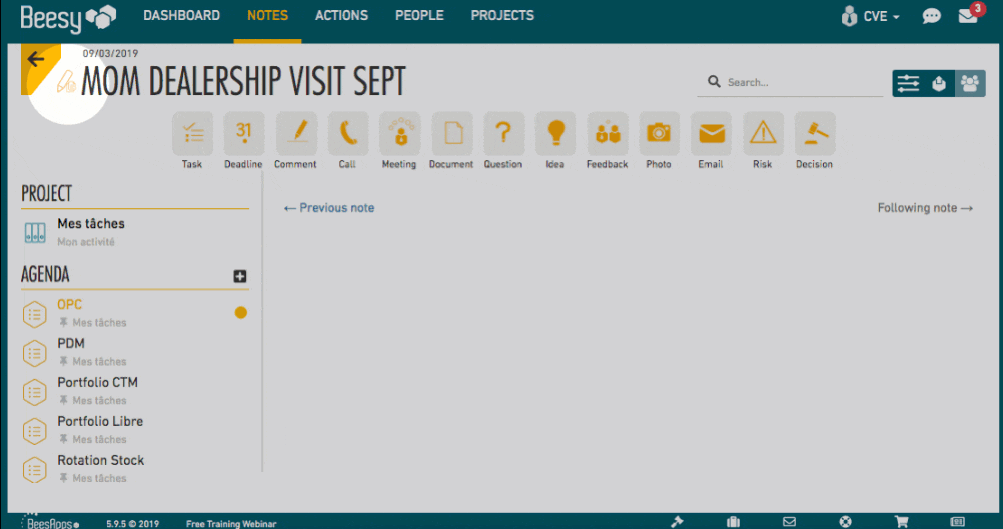 The feature will allow you to deploy one-time or monthly action plans in your recurring notes by integrating note templates that specify, for example:
Your monthly business strategies,
Your monthly roadmaps,
Your action plans related to specific project phases
Etc.
Result: All your action plans are included in the recurring note thanks to the note templates and you will be able to follow your one-time action plans in your recurring meeting.
You will first create your note templates on your Beesy containing the specific action plans or new projects you want to include in your recurring note. For each specific action plan, there is a note template.
Then insert all the note templates you want into your recurring note.
By clicking on the topic(s) in question, specify whether or not you want them to appear in the next note once all their actions have been closed.
Beesy TIPS N°4

Customize your exports and minutes of your follow-up meetings
At the end of your meeting, ask Beesy to prepare a professional automated minutes that includes all the important details discussed during the meeting. Your team will be able to know exactly what action plan to follow, expected results, related projects and timelines.
Beesy allows you to customize your exports and meeting reports such as:
Adding your customized signature
Adding your logo
Whether or not to display the action plan summary
Display or not the participant details : titles and functions
NEW – Display or not the recurring subjects even empty in your report agenda
NEW – Display or not the recurring subjects even empty in your report body
These last two new features allow you to keep your important topics in priority and visibility even if no action or decision has been defined or discussed during the meeting.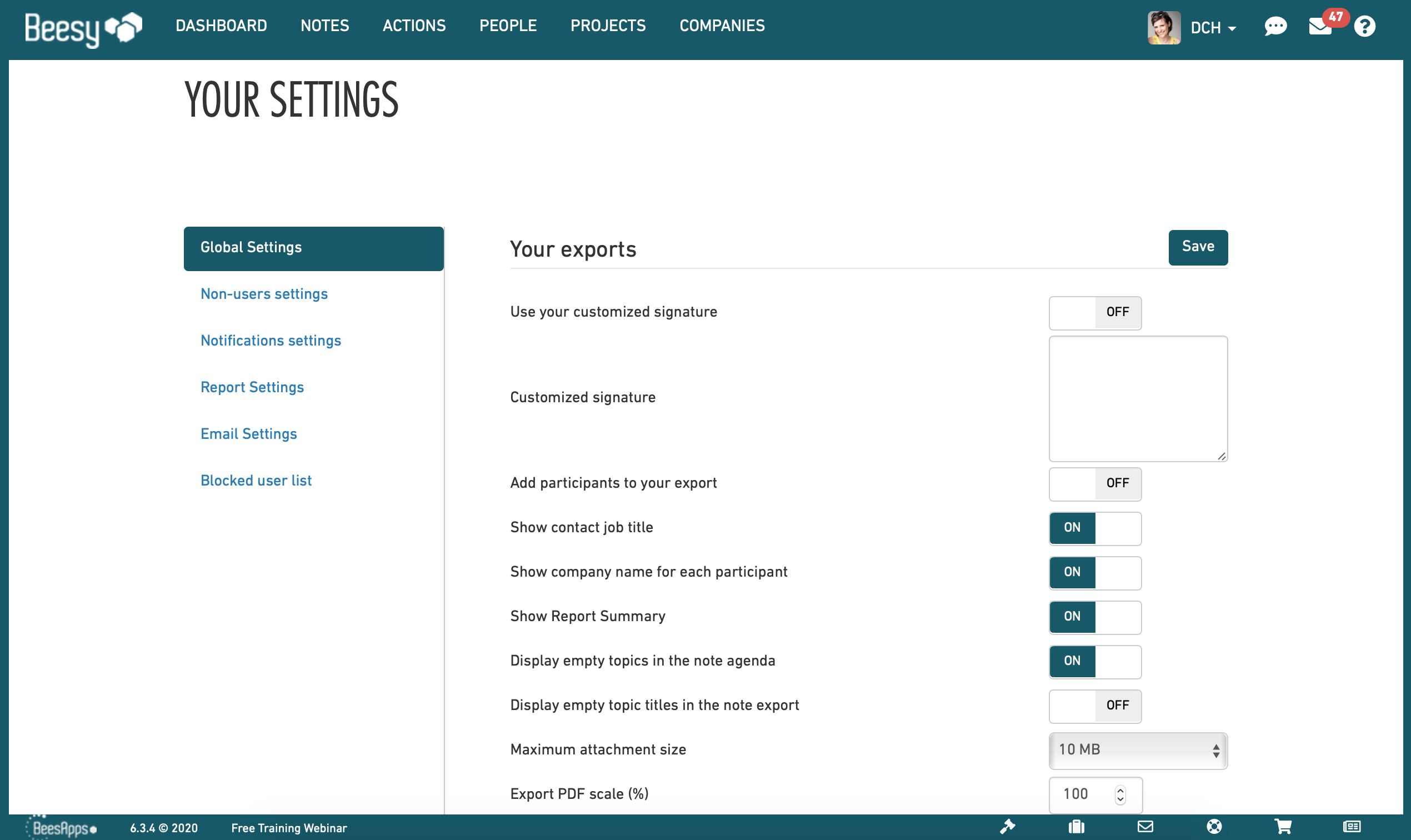 Beesy allows you to easily follow your recurring meetings subjects and action plans.
Manage and track all your decisions and actions
Automated meeting creation to save time in meeting preparation
Professionnal meeting minutes
Manage all your recurring meetings with Beesy now to save time and focus on what's important: your team and your business.
Want to see Beesy in action ?
Register for a webinar!