Since 2020, Microsoft Teams has seen its user base grow exponentially. In October 2020, the platform reached 115 daily million users. You have probably already used this tool before, or you might use it in the near future. Often, basic functions (instant chat, video/audio call…) are rapidly understood by most users. However, there are many Teams features less known that can drastically make your daily life easier. Microsoft Teams is a tool that allows you to centralize your activity, data and communication all in one application. In this article, we provide advice on how to make the most out of Teams' potential to optimize your Digital Workplace.
Manage your communication on a single platform
Plan your meetings in Teams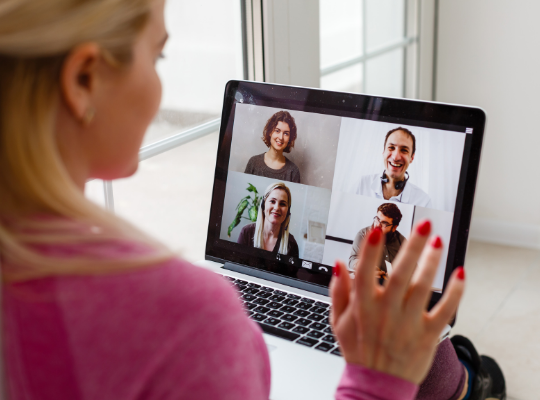 Microsoft Teams is a tool that allows you to manage your organization's communication. In addition to usual calls, you can organize audio or video meetings, even with people external to your company. You can plan any kind of meeting on Teams. You can at the same time create a one-to-one session with your colleague, start an exchange meeting where everyone will be able to discuss with each other or even plan a 200-people conference. During your video conference, you can also share your screen to show your team some data on your laptop. You can also share white boards so that each participant may interact on them in real time. Finally, you can record all your meetings so that they can be watched later.
"Teams" in Teams: a fundamental feature to organize your activity
Even though Teams is a powerful communication tool, its biggest strength is the "Team" feature which allows you to create real workspaces. In those, you will always find:
A general communication channel to share news regarding your team
A documentary space to share resources
Applications that are necessary to your activity/to the channel's objective
All your meeting minutes
In each conversation, team and channel, you can create a completely customized environment. Similar to a smartphone home screen, you can have a completely personalized interface with all the applications and documents you may need. You can then create specific workspaces for all your business priorities.
In a team, you can create a specific work environment in which you can add several channels dedicated to different topics. For instance, in a marketing team, you can create different channels about product marketing, SEO referencing, reports or content. You can structure your activity and implement important documentation and necessary elements so that your team can move forward on different topics.
A company can organize itself by having dedicated teams for each of their departments such as marketing, finance, HR or support. In these teams, you will be able to create channels. Those are very handy because they allow you to divide your teams by project, client, deadline or theme. Furthermore, when someone is added to a team, they will be able to be up to date by accessing all conversations and files that have been shared in their team.
On the platform, a team allows you to structure a conversation on a specific theme, on the long run. You can easily find documents, reports and conversations about that specific topic.
In different channels, you can exchange on targeted and more specific subjects. That is the advantage channel and team conversations possess over simple private discussions. The function of simple conversations offered by Teams allows you to chat in the moment, for ephemeral exchanges. The goal of those is not necessarily to be able to go back in the history and find files.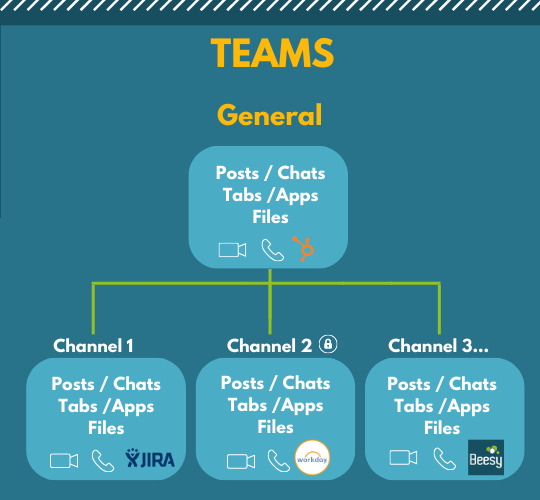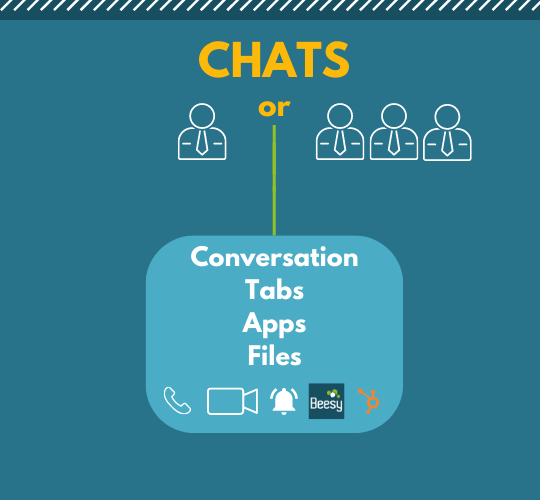 Thus, favor teams and channels to structure your activity by priority rather than simple group conversations. In your chats, you can have rapid exchanges with your colleagues, individually or in groups. In those, if needed, you can start a call in 1 click. Conversations are a simple place to start a discussion whatever the theme may be. However, you should definitely choose to create a team to collaborate, work with several people or organize yourself.
The advantage of dividing communication is to be able to better target posts and conversations' topics in different teams and channels.
Microsoft Teams is more than a simple platform that allows you to discuss with anyone and make calls. This tool allows you to structure your communication. Files, information, conversation and different assigned tasks will all be classified and will target people affected really by the subject.
One tool to manage all your activity
In every team, channel and conversation, you can add tabs to manage your activity. You can add specific tabs with your overdue actions or your actions for today. For example, you can manage your tasks filtered by project, person, deadline or type of task. Your tabs can also be created as dashboards allowing you to manage your action plans. You can also create specific tabs with reports on your project's status. For instance, applications such as Jira or Beesy allow you to manage your roadmap directly from Teams.
However, the true power of Microsoft Teams doesn't only reside in creating tabs. This platform is a true space dedicated to collaboration. To optimize it, divide your projects and groups in teams, then in channels for each specific topic. In each space, you can create a totally different work environment in which you can configure different applications. You can entirey customize your Teams interface by creating tabs you'll need with all the tools you use every day. All your work tools can then be gathered all in one place.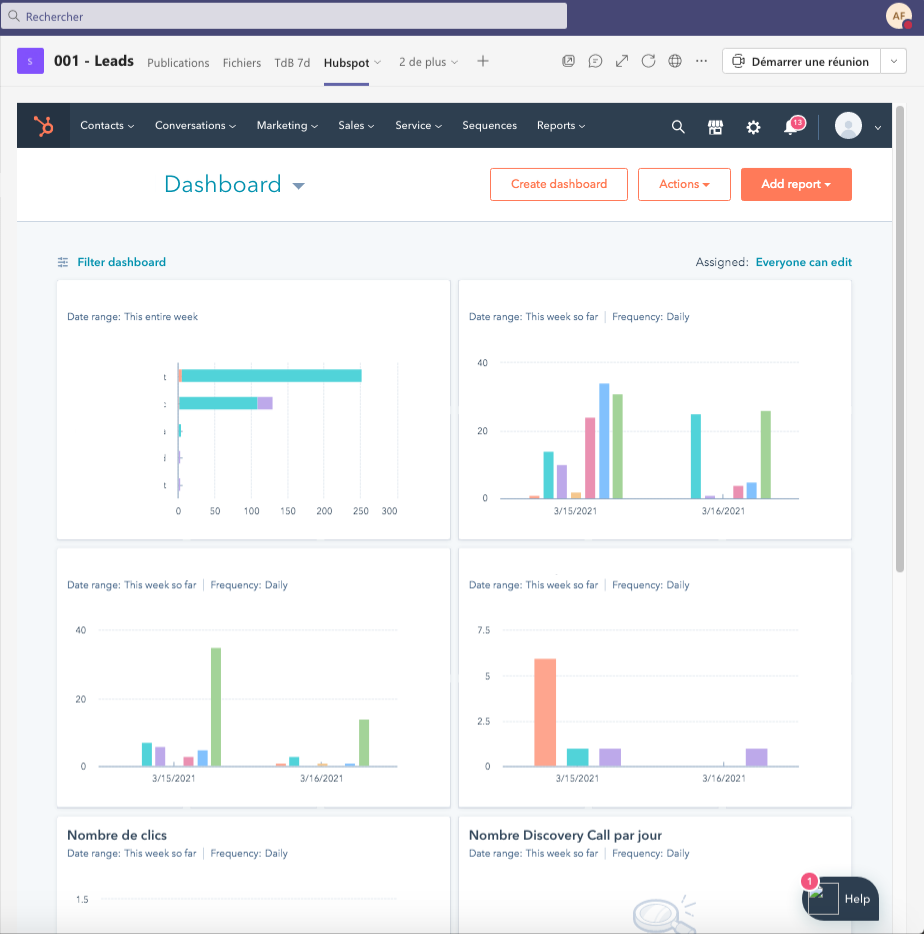 For instance, if you're in a marketing team, create a dedicated channel to your roadmap by using Jira to follow the status of your different sprints. You can also create a team completely to see all the roadmaps of the company with channels presenting the several roadmaps depending on the departments. All the applications you may need are integrated in Teams. For example, you can use Jira for developers, Hubspot for sales teams or Workday for finance and HR teams. Each application is then associated to a specific work environment, in its own team.
Using bots provided through Teams to improve your efficiency
Bots on Microsoft Teams are often an unknown feature which could yet change your professional life.
Those are not difficult to use. Similar to vocal assistants such as Siri or Alexa, you can interact with them in writing in natural language. To interact with them, all you need to do is to open their dedicated conversations in your chats on Teams. AI's will allow you to automate some tasks and execute instructions rather than waste time completing those tasks by yourself.
For instance, with bots such as Beesy, you can ask it to show your actions for today, your overdue ones, retrieve your team members' action plans or directly modify tasks in your Teams conversation. Create notes, to-do lists, assign tasks, make comments through bots. Those will then generate active cards in your Teams chats. Then, you'll be able to directly modify your instructions without having to go through the specific app you're using. You can modify in real time given instructions, which team member is affected by those or adjust defined deadlines. You can then manage all your activity on one platform, in a single chat.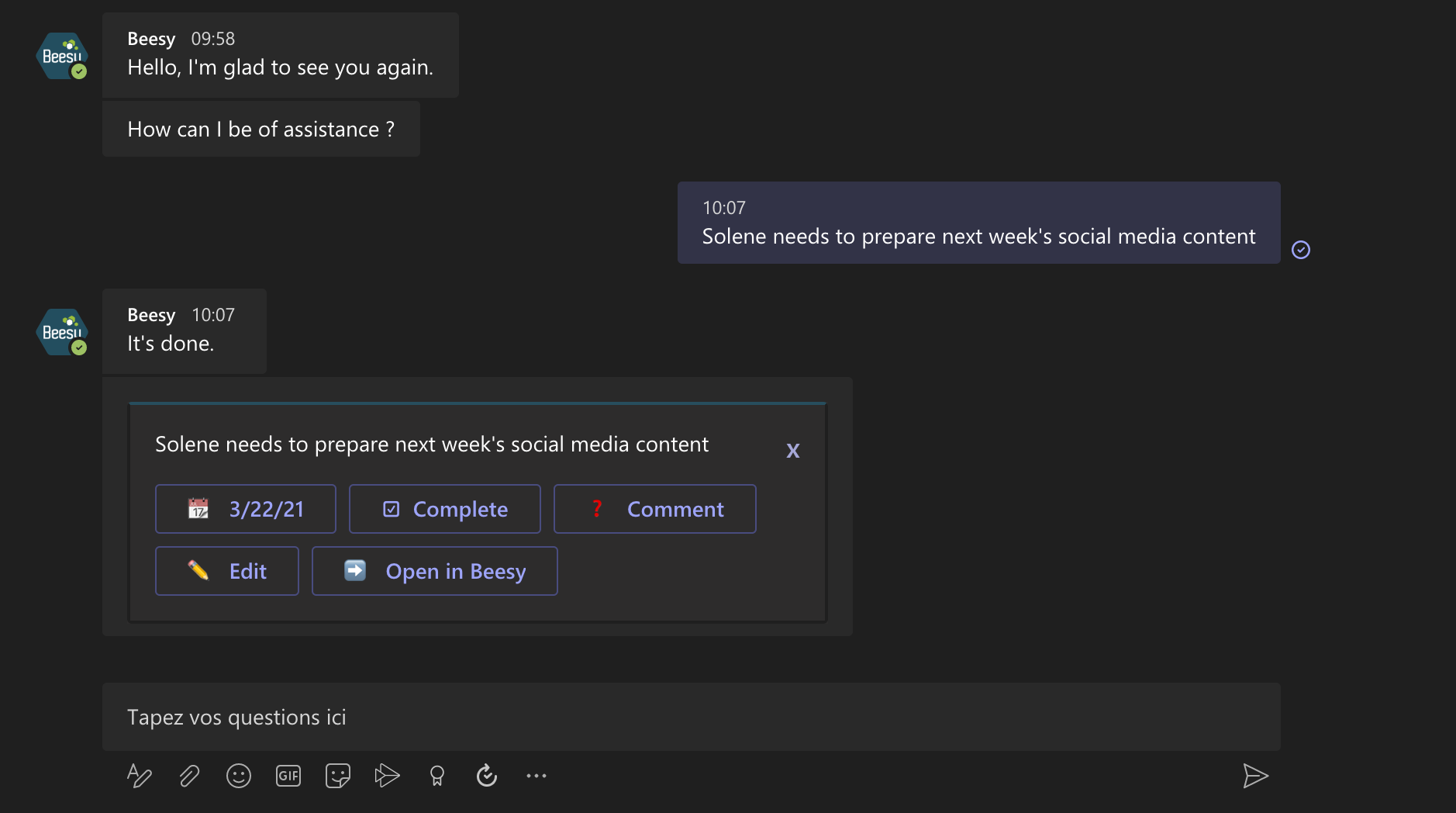 A platform also dedicated to the management of documentation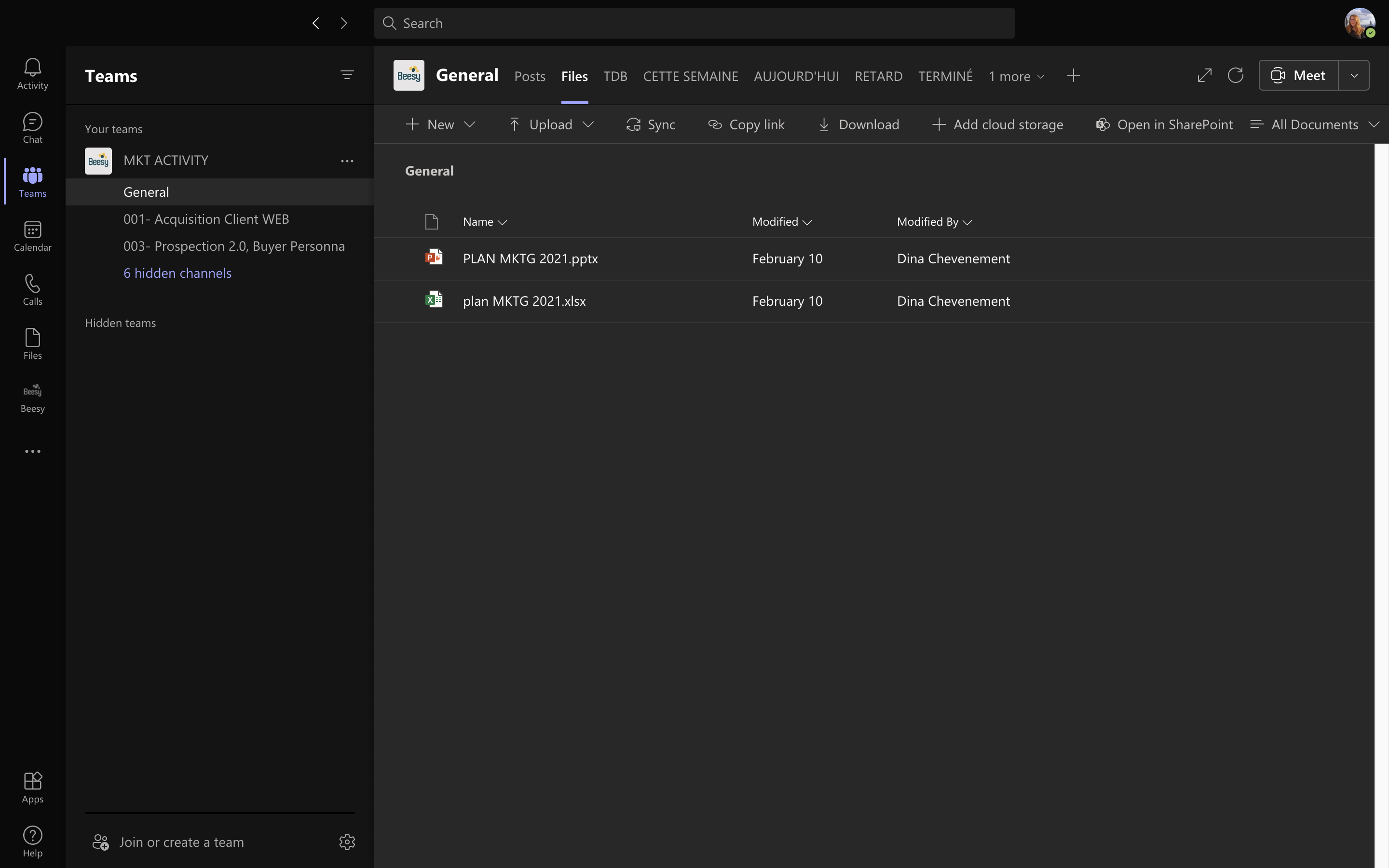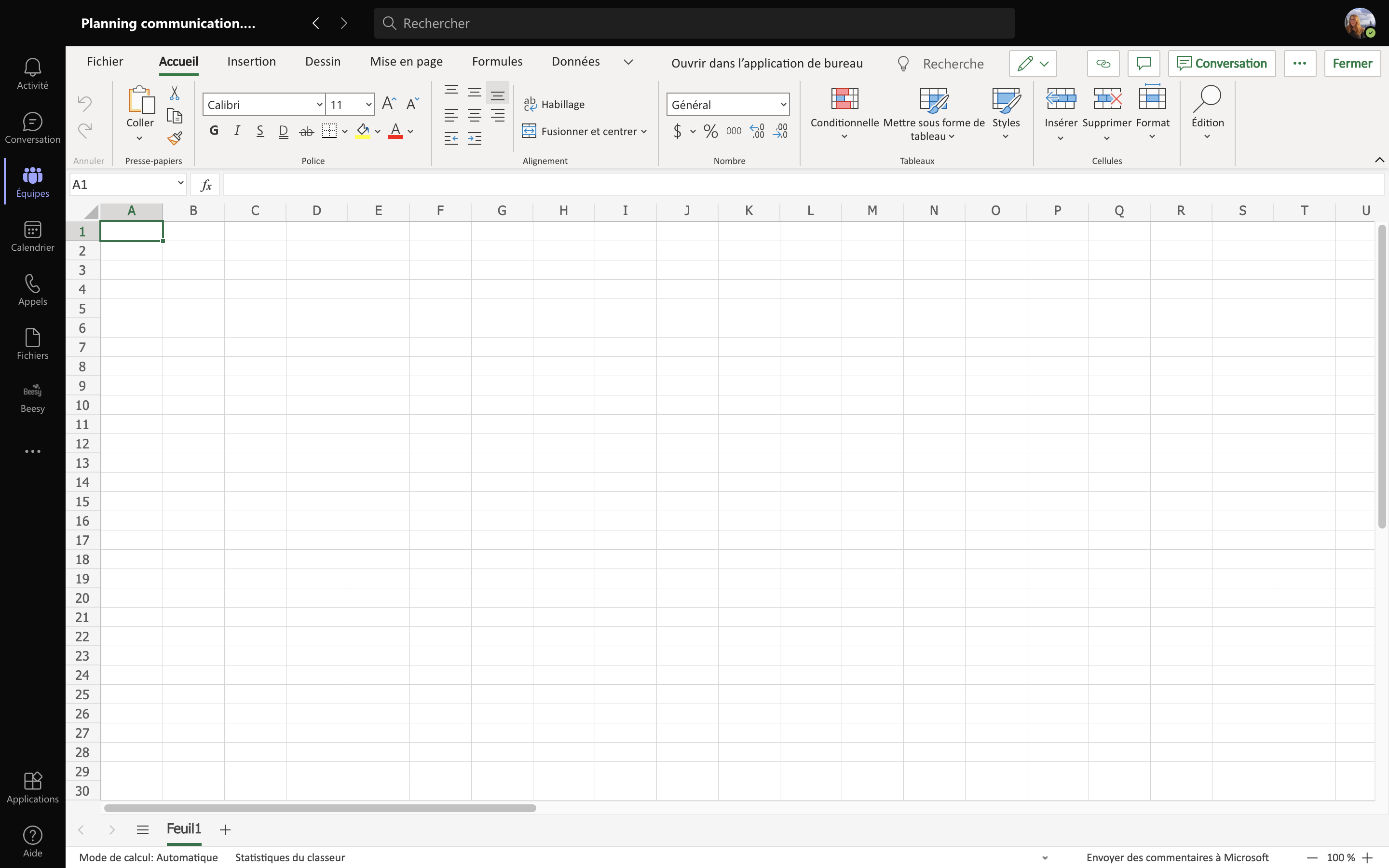 Teams can also be used as a cloud server. You can create spaces that integrate the management of documentation. Synchronized to SharePoint file servers allow you to have access to all the information you may need to work efficiently.
Teams and channels can serve as virtual folders to all documents necessary to your activity. You can practically store any type of file on Teams. All your team members can easily get access to all the resources they might need. Confidential information can even be stored in private channels, only accessible to specific people.
All those features will help you save a lot of time. In average, you spend 42% of your day searching for information. Thanks to Teams, this percentage is hugely decreased. You will not lose yourself in infinite tree views anymore. Thanks to channels and teams, everyone knows where to store and find their files because the classification of information is easily structured in the Teams organization.
As well as being a communication software, Teams can also be used as a cloud platform. In it, you can even use the Web version of Office 365 and create Excel sheets or Word documents in your teams. Shared with everyone, each member can then modify in real time any given document.
Microsoft Teams is a very powerful tool that can seem pretty basic on the surface. However, today, it has become essential to manage the entire activity of an organization. This platform is actually the solution compared to the multitude of tools needed to manage a company on a daily basis.
With Teams, you can manage your communication in teams, channels and standard chats. Organize meetings and conferences, make private calls with your colleagues or interact in group conversations. You can also store all your documentation on the platform, which will then be accessible by everyone concerned by the different matters and will be able to modify files in real time. Finally, Teams allows you to manage all your activity in one place thanks to apps and tools integrated to the platform and bots allowing you to automate tasks. In the end, Teams is a tool which can help you create a real Digital Workplace.